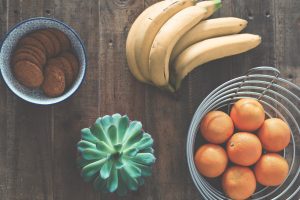 Any plan for healthy eating and getting fit should include healthy snacks. Snacking has become an important part of a daily meal plan. When you have mid morning and mid afternoon snacks available, not only are you less likely to stop and grab a candy bar at the gas station, you're also less likely to eat too much at normal meal time. Planning for healthy snacks means making sure they provide all the necessary nutrients to add to your daily diet, but also are lower in calories. Some snacks also need to be prepackaged in single serving sizes so you aren't tempted to eat too much.
Nuts are a great snack, but also should be kept in single serving baggies.
Nuts are a good source of protein and healthy fat. Unlike many healthy snacks, they're easy to carry and don't require any refrigeration. They provide fiber and also are very filling, thanks to the protein and fat they contain. They not only help you lose weight, they lower your risk for serious conditions like heart disease, cancer and even may help elevate your spirits to reduce the potential for depression. If you're like many people, it's easy to misjudge what a serving size is and eat far more than you should. That's why carrying them in single serving baggies helps keep you on track.
Veggies and fresh fruit are a favorite go-to snack.
If you want to make sure fruits and vegetables are eaten, make sure they're ready to eat. That's right! When you bring home that cantaloupe, the first thing you should do is seed it, peel it and cut it in bite size portions. Wash the vegetables and chop them up into bite size pieces and keep them in a covered bowl. When fruit and vegetables are ready to eat, requiring only a bowl or plate to serve them, they'll be more likely to be used as snacks by the whole family.
Get out the celery or apple slice and spread it with nut butter.
If you're a peanut butter fan, then you probably already have some plans to smear a bit of apple or celery with peanut butter, but for those not fond of peanut butter, there are alternatives. Almond, cashew, pecan or sunflower (technically seed butter) nut butter can please even people that hate peanut butter. You'll fill up on just a half an apple and a tablespoon of butter spread on it. A tablespoon of walnut butter is only 85 calories, while a tablespoon of cashew butter is 95. Add approximately 50 calories for half an apple and you have a filling snack for under 150 calories. It provides healthy fat, protein, fiber and other nutrients.
Don't forget the cheese or hard boiled eggs. Two easy go to snacks are slices of cheese and hard boiled eggs. For a little variety, combine the cheese with apple slices or cut the egg in half and mix a bit of mayo, pickle juice, pepper and mustard for deviled eggs.
A few dark chocolate coated almonds will satisfy your urge for sweets and help your heart at the same time. For heart healthy benefits, the chocolate must be 70 percent cacao. You can make your own by putting the chocolate in the microwave until melted, mixing in the nuts and then sprinkling with sea salt.
Create some dips to go with those fresh veggies or fruit that help fill you up and not out. Whether you make hummus your dip, go for seasoned Greek yogurt, like cilantro/avocado dip or cucumber feta or like to walk on the adventurous side with a dip made from pureed beet root, you'll look forward to snacks.
Try a half an avocado with some hot sauce. Check your favorite brand to find the healthiest. They all contain antioxidants that can help keep you healthier and younger!