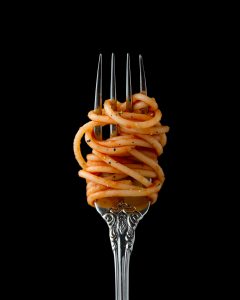 You hear a lot about veggie pasta today. What you don't hear is whether it's better for you or not. There are two types of veggie pasta. One is the type you find on the grocery shelf that is regular pasta that's enriched with vegetables. It's slightly lower in carbohydrates and calories and has a bit more vitamin A and protein. The second type of veggie pasta is real vegetables that you substitute for pasta. While the prepackaged vegetable pasta is slightly better for you than regular pasta, true vegetable pasta, where vegetables replace pasta altogether is the best.
Check out the vegetable pasta or whole wheat pasta.
For a long time, there was only regular pasta and whole grain pasta. Now there's a whole collection of vegetable packed alternatives that provide a rainbow of color. While that color does make noodle salads more interesting, does it actually provide more nutrition? To find that out, you have to read the label to see what's highest on the ingredient list. If you check out a bean based pasta, it should be at the top of the list. Refined flour isn't one of the ingredients you want to find high on the list whether it's a spinach pasta or whole wheat pasta. Eating some of these pastas with added vegetables is similar to eating regular pasta, but with a more colorful appearance.
Try a real veggie pasta, like vegetable spaghetti.
Have you ever tried a true vegetable alternative to pasta. If you haven't, the easiest place to start is with spaghetti squash, also known as vegetable spaghetti. It's extremely good whether you cover it with tomato sauce or just a touch of butter and garlic. Spiralizers let you make your own veggie noodles from broccoli stems, zucchini, butternut squash and parsnips, to mention a few. Eggplant and zucchini both substitute for noodles in lasagna, while cutting the calories significantly. They don't require a spiralizer either.
Play around with recipes to find ones that taste great.
Even if you hate to cook, playing around with the spiralizer is fun. You can try out different vegetable substitutes and if you don't like them, don't make them again. For those not ready to invest, try out recipes that don't require a spiralizer, like vegetable spaghetti or zucchini lasagna. Don't make a large amount the first time. Just make enough for a serving for each person. That way, there are no leftovers if you hate it or your family does. You'll be adding extra fiber and vegetables to your diet and eliminating some refined flour. One client does a mix and match, using half of the regular whole wheat pasta and half vegetable pasta.
There's a ton of alternatives to regular pasta, including Shirataki noodles that are made from yams. Finding the type your family will eat is a top priority. No matter how healthy something is, if you or your family doesn't eat it, it's not healthy for you.
One great benefit of using the spiralizer to make noodles is that kids love to help. When they help make the noodles, the chances of them eating them increases dramatically.
Always read the label when you buy packaged veggie noodles. Make sure it has more than just a sprinkle of vegetable powder in the noodle mix.
You're always better off eating whole foods, than depending on boxed or processed food. You can make spiralized noodles and freeze them ahead for later use, which adds to ease.
For more information, contact Evolution Lifestyle Fitness