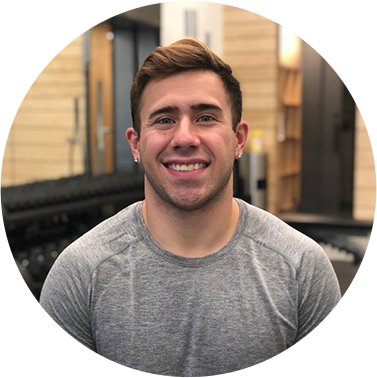 Coupling his passions for competition and building relationships that stem from playing sports through the collegiate level, Brian has been working as a personal trainer for the past year. After graduating Sacred Heart University with a Bachelor's degree in Exercise Science in 2019, he wanted to put that knowledge to work.
Shortly after starting his coaching career, Brian realized how much he loved training and committed to sharing that passion with those who let him. After going through his own personal transformation, Brian understands the trials and tribulations that come with embracing a journey towards better health. He hopes to share his success story and impact every person he is fortunate enough to work with.
Brian believes the way to get results is through intentional movement, optimizing recovery, and consistency. Taking a lighthearted yet serious approach he coined his training philosophy "To enjoy the process as much as the outcome."
He strives to educate himself daily to improve his craft, and be the best coach possible. His favorite ways to use free time is to spend it with family and friends. Outside of training, his hobbies include reading, playing handball, and watching anime.
UpFit Assessment
$99
This 1-1 evaluation helps us determine the starting point for your personalized strength, nutrition, and accountability program. A custom program for your specific needs ensures the greatest return on your time, energy, and efforts.
7 Day Jump Start
$199
Get acquainted with our UpFit Training program, mindset, and community, as you get a jump start on your fitness journey. Expect to see a boost in metabolism, energy, and motivation, as UpFit's signature small group training program combines individualization with the fun dynamic energy of a group class.
UpFit Assessment
2 Small Group Training Classes
30 min Nutrition & Lifestyle Strategy Session
No Obligation/Commitment!