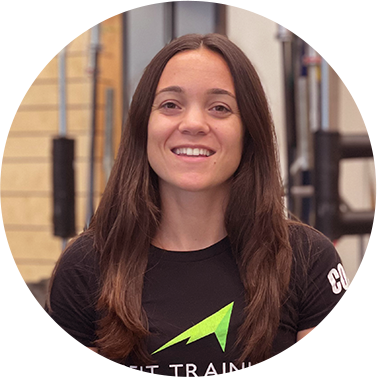 Patricia spent most of her youth and teenage years playing basketball and picked up ballet the last couple years of her teens. Fitness and sports became a growing interest the moment she moved to New York from Spain 10 years ago and was introduced to the world of kickboxing. Her enthusiasm and eagerness to learn and perfect every strike led her to becoming a fitness kickboxing instructor for iLoveKickboxing, where she coached groups of 20+ and led 1-1 private sessions.
Over the years, Patricia's own training progress improved dramatically when combining her kickboxing and Muay Thai training with strength & conditioning. She eventually began incorporating those same methods with clients and noticed dramatically better strength and fat loss results.
Patricia's growing passion for helping others led to her becoming a Certified Personal Trainer (CPT) through the National Academy of Sports Medicine (NASM) and afterwards enrolled in her 2nd bachelor's program in Exercise Science at Brooklyn College to prepare her for a new career. In 2021, Patricia came in as a last year intern and is now a fully fledged coach at UpFit!
Outside of work, she enjoys spending time with friends, cooking, traveling to new places, and most of all, training in Muay Thai, with the hopes of competing in her first amateur fight in the near future.
UpFit Assessment
$99
This 1-1 evaluation helps us determine the starting point for your personalized strength, nutrition, and accountability program. A custom program for your specific needs ensures the greatest return on your time, energy, and efforts.
7 Day Jump Start
$199
Get acquainted with our UpFit Training program, mindset, and community, as you get a jump start on your fitness journey. Expect to see a boost in metabolism, energy, and motivation, as UpFit's signature small group training program combines individualization with the fun dynamic energy of a group class.
UpFit Assessment
2 Small Group Training Classes
30 min Nutrition & Lifestyle Strategy Session
No Obligation/Commitment!