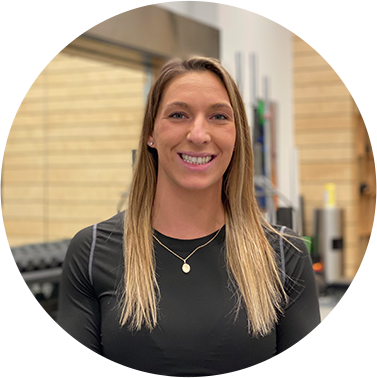 An athlete and leader from a very young age, Regina's enthusiasm for sports and fitness training began while she was a student-athlete herself, involved in basketball and competitive cheerleading. Her passion for health and fitness grew even more as she completed her bachelor's in Exercise Science from Hofstra University.
Regina brings a plethora of coaching experience to UpFit from previously working at Parisi Speed School, New York Sports Club, and Blink. She has worked with large groups (20+), smaller groups (10+), and in one on one personal training, and prides herself on being able to work with people of all fitness levels and backgrounds.
She focuses on strength and conditioning, speed and agility, injury prevention techniques, and recovery. Her commitment to helping clients reach their goals also means designing programs that are fun and engaging to keep people motivated. Over the years as a coach and trainer, she has grown a deeper understanding and appreciation for being able to help others obtain their personal goals and improve their athletic performance.
One of Regina's passions is the continuation of education in the health and wellness field. She enjoys exploring new places and trying new things. Her life mantra is "Never stop. Never settle," because we can improve ourselves each day.
UpFit Assessment
$99
This 1-1 evaluation helps us determine the starting point for your personalized strength, nutrition, and accountability program. A custom program for your specific needs ensures the greatest return on your time, energy, and efforts.
7 Day Jump Start
$199
Get acquainted with our UpFit Training program, mindset, and community, as you get a jump start on your fitness journey. Expect to see a boost in metabolism, energy, and motivation, as UpFit's signature small group training program combines individualization with the fun dynamic energy of a group class.
UpFit Assessment
2 Small Group Training Classes
30 min Nutrition & Lifestyle Strategy Session
No Obligation/Commitment!