Our Mission
To be the most people focused fitness company in the industry, dedicated to empowering the modern individual.
We plan on reaching our mission statement by leaning on our Triangle for Success. This Triangle guides us to create an environment of trust, respect, constructiveness and positivity in order to create the highest chances of success for our clients and team members.
The triangle is made up of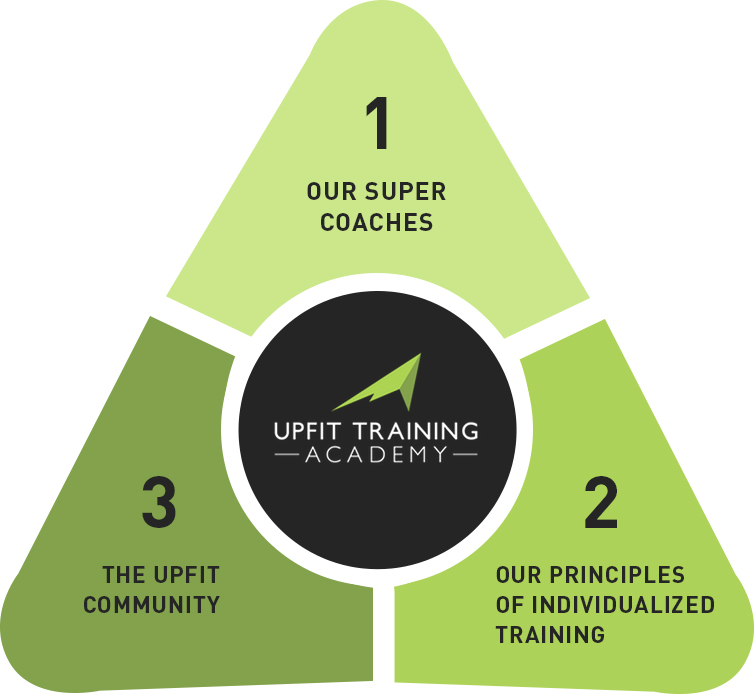 1) OUR SUPER COACHES
Coaches who…

Live what they preach
Care about your success
Have a growth mindset
Collaborate as a staff to create a meritocracy for the best ideas
Are WITH you rather than AT you

2) OUR PRINCIPLES OF INDIVIDUALIZED TRAINING
The UpFit training program…

Is evidence based
Is client based
Allows wins from day 1 with structure and planning
Realizes consistency wins overall
Rewards effort and autonomy
Strives to help you become independent and ultimately your own agent of change

3) THE UPFIT COMMUNITY
Our fitness tribe…

Helps you feel like you are part of a team
Fosters accountability
Leverages the power of relationships
Creates a level of high standards
Makes training fun and worthwhile!
UpFit Training Academy was founded by two fitness professionals with over 30 years of combined experience in coaching collegiate athletics and personal training. We know how to provide you with the best, personally-tailored workouts and training programs to help you with your fat loss, muscle gain, and body transformation goals at our private gym in NYC.
Our approach is a simple combination of highly vetted and experienced coaches, customized workouts and training plans, and an active fitness community that is here to hold you accountable and support you on your journey. We know that cookie-cutter classes and random workouts ARE NOT an effective approach to achieving your specific fitness goals, and that going at it alone is difficult. Our number one goal is to help you succeed by making exercise and healthy eating work for your schedule and lifestyle.
We offer a number of different training options, both virtual in your own home, and in-person at our private studio. Both personal training and small group training classes are available in either format. Sign up now to start seeing results!
FREE

Upfit Success Session

This 1-on-1 assessment and strategy session will allow us to design a personalized training program to fit your specific needs. Based on your performance, we create a customized strength and conditioning profile to make sure you get the most out of your workouts and overall program.
7 Day Jump Start Program only $99
Get acquainted with our UpFit Training program, mindset, and community, as you get a jump start on your fitness journey. Expect to see a boost in metabolism, energy, and motivation, as UpFit's signature small group training program combines individualization with the fun dynamic energy of a group setting.
UpFit Assessment (Movement Screen, Goal Setting,
Nutrition & Lifestyle Status)
2 Small Group Training Sessions
7 Day Trial on our Precision Nutrition
Coaching Program
No Obligation/Commitment!