We identified a problem in the fitness industry.
Fitness studios have been using the drop in class, or per session model ever since the industry started. Thinking of each session or class as individual training sessions rather than a piece of a training PROGRAM is fundamentally flawed. Our bodies need a consistent routine, with proper progressions over time to see healthy adaptation and change. Without a proper plan, motivation wanes, results slow, the chance of injury increases, and drop out becomes likely.
As customers, frustration mounts as effort doesn't lead to results. Or it does, but it's short lived. More so, the two most common forms of instruction, large group classes and personal training are inefficient and ineffective. Large group classes do not give us the individual attention and guidance we need, and while personal training gives us more focused attention, the cost of a one on one trainer can be unaffordable.
This archaic binary model of large group or personal training is even worse for trainers, who are paid on a commission basis. This leads to trainers prioritizing their sales skills instead of focusing on high quality coaching sessions, and does not allow the time/energy to learn and invest in continuing education. Trainers also become sole proprietors, without colleagues to create the collaborative environment that proper science demands.
We innovated and took a risk.
Our founders are entrepreneurs from Queens, New York who asked themselves – how can we do better.
Our disruptive solution is to bring a top tier fitness program coached in a small group setting by a team of super coaches.
We believe our members should receive the attention of a personal training program that is evidence based and technique focused, in a small group setting that encourages autonomy, collaboration, and lasting progress. We believe this leads to consistency, continued motivation, and results. We believe this type of fitness program is a necessity in a healthy, productive, and confident New Yorker, and that it should be affordable.
We believe in investing in our coaching staff by teaching them leadership skills, science backed coaching and exercise techniques, while collaborating together in weekly meetings. We believe our coaches should receive a regular salary that is not commission based, previously unseen in the private fitness industry.
We are UpFit Training Academy.
We transformed every aspect of the fitness experience. We designed a training curriculum that is curated for your specific fitness experience and needs. We've researched and implemented ways to keep our members motivated by getting them results, fast. We recruited and vetted a coaching staff that takes their craft seriously, leads by example, and lives what they preach. We developed the ultimate fitness community that prioritizes relationships and celebrates the individual story.
We believe we do it better.
Our mission is to be the most people focused fitness company in the industry dedicated to empowering the modern individual.
We plan on reaching our mission statement by
leaning on our Triangle for Success.
The triangle is made up of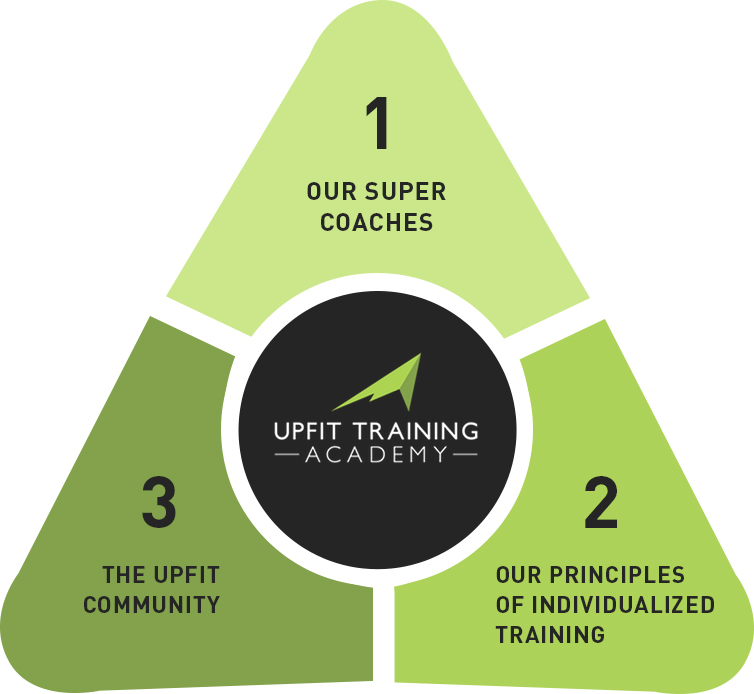 1) OUR SUPER COACHES
Coaches who…
Live what they preach
Care about your success
Have a growth mindset
Collaborate as a staff to create a meritocracy for the best ideas
Are WITH you rather than AT you
2) OUR PRINCIPLES OF INDIVIDUALIZED TRAINING
The UpFit training program…
Is evidence based
Is individualized
Allows wins from day 1 with structure and planning
Keeps you motivated
Realizes consistency, effort, and autonomy wins in the long run
3) THE UPFIT COMMUNITY
Our fitness family…
Helps you feel like you are part of a team
Fosters accountability
Leverages the power of relationships
Creates a level of high standards
Makes training fun and worthwhile!
UpFit Assessment
$250 $99
This 1-1 evaluation helps us determine the starting point for your personalized strength, nutrition, and accountability program. A custom program for your specific needs ensures the greatest return on your time, energy, and efforts.
7 Day Jump Start
$490 $199
Get acquainted with our UpFit Training program, mindset, and community, as you get a jump start on your fitness journey. Expect to see a boost in metabolism, energy, and motivation, as UpFit's signature small group training program combines individualization with the fun dynamic energy of a group class.