IN PERSON TRAINING WITH KIRRA COLLINS
Kirra Collins is a certified personal trainer, nutritionist, group instructor, corrective exercise specialist, bodybuilder with a B.A. in Psychology.
She approaches fitness as a lifelong behavior modification where we have continuous improvement. She defines her sessions as simple, challenging, and efficient with an emphasis on proper form and mobility. Her favorite client is anyone with a goal and a willingness to work towards it!
Her approach to training relies heavily on the fundamentals of functional training, incorporating movements from the activities of daily life that are unique to each individual. She aims to be adaptable with her programming to help find the types of exercise and lifestyle changes that are exciting, manageable, and shape a path to achieve goals.
Most importantly, she strives to provide clients with a positive and satisfying experience that inspires reassurance in their personal ability to fulfill their health goals and everything else faced on a day to day basis.
IN PERSON TRAINING INCLUDES
Nutrition and supplement Advice
Successfully burn fat and gain lean muscle
Kirra Collins mobile app included for easy access to your program
The ability to track every set, rep, and rest period by using the app
Quick, easy, and flexible exercise programs delivered straight to the App
All Workouts come with exercise videos and descriptions to ensure you know exactly how to get the most from your workouts
Track your progress through detailed assessments, a flexible food diary, progress photo manager and simple to use tracking
Receive regular in person training sessions with Kirra Collins
Track your daily and weekly progress though simple and efficient check ins via mobile application
Communicate directly with Kirra using the in-app messaging center
Integrate your favorite fitness applications such as MyFitnessPal, Fitbit and MyZone to your member's area for an all-in-one experience
You will have every tool available in your arsenal for guaranteed success
WHY KIRRA COLLINS FITNESS
Kirra Collins will support you each step of the way. Regular in person training sessions and mobile app updates with motivational messages delivered directly through the application. Kirra Collins will provide a tailored workout to make sure things are working for you. Always remember, people who exercise using a coach are much more likely to succeed in reaching their health & fitness goals.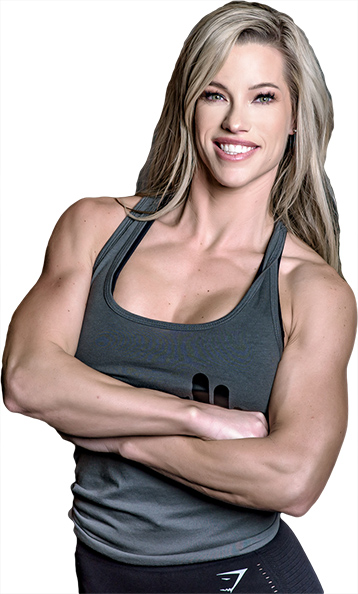 PROGRAMS SPECIFIC TO YOUR GOAL
Kirra's in person training and result-driven program will help you reach your goals and keep you motivated. Whether you are looking to lose weight, increase strength, or improve sports performance, she will be there to provide a program that will get you there in record time!
MORE VARIETY & ADHERENCE
All Kirra Collins workouts and in person training will continue to challenge you both mentally and physically. The best programs in the world will not work if dedication is lacking. The program will have plenty of variety, so you that you may keep adapting without hitting any plateaus or becoming bored.
Ready to Get Started? Sign Up Below
FREE Training Session!
Fitness Assessment
Nutrition Advice
App Download
Gold's Gym Greeley
* Gold's Gym Greeley (970) 451-8440