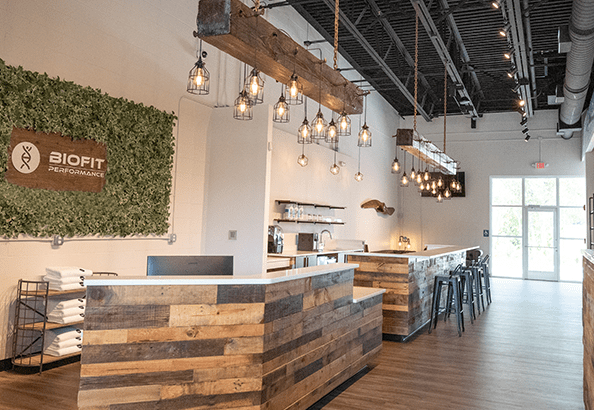 What is BioFit Performance
BioFit Performance is a strength conditioning facility specialized in personal training and small group training. Classes are available mornings, afternoons, and nights, Monday-Friday 5 am to 9 pm. Saturday 7am – 11 am.
Classes are 55 minutes long, in 3 parts: 6 phases dynamic warm-up, workout, and recovery. Workouts are programed in advanced to essentially provide progressive overload and changing variety by adding new stimulus and making it fun!
What makes us different than any other gym is we cover all aspect of fitness and more in particular the 4 big pillars of a successful healthy lifestyle:
Fitness, Nutrition, Recovery and Accountability.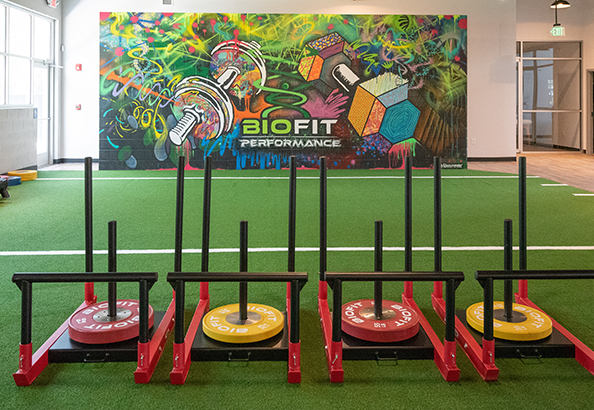 For Our Members
All membership includes customized workouts, a nutritional meal plan, access to all recovery tools and direct 1-on-1 weekly meetings with assigned coach to keep you accountable and see progress towards your goals.
Our sport science and athletes training background is the reason why a lot of people choose us over competitors. We are a one stop shop by providing everything on site. From our college degree coaches to, nutritionist, recovery tools, massage therapist, chiropractor and physical therapist, we treat you just like pro athletes get treated. You'll find their results posted daily in our gyms. We celebrate success at BioFit and your success is our mission. LIVE, LIFE, FIT.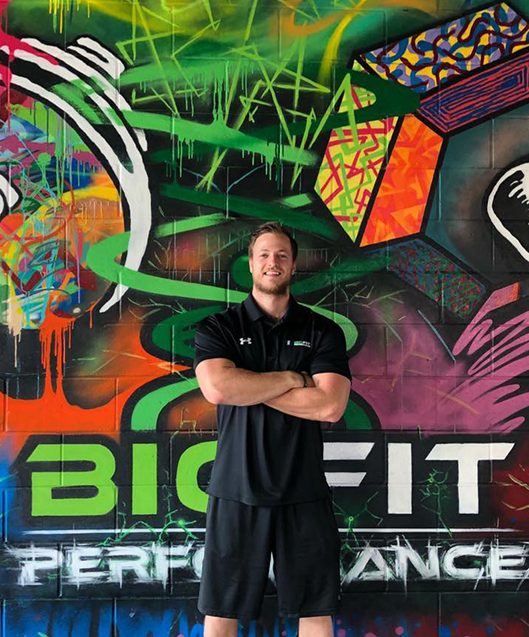 Our Mission and the BioFit Performance Difference
It all started when Founder and CEO Kevin Masson, back then a retired pro-athlete and D1 college strength coach and that's when the idea of BioFit came to life. Wouldn't be nice to have the level of care an expertise that pro-athletes and college athletes get but for general population? Without having to travel to so many different places that do not communicate with each other, without even talking about the amount you would have to pay to see each one of those experts.
What if we could have all fitness and health professions work in synergy for the greater good of the client? Just like an athlete ready to compete. What if we could we could go against the current fitness trend and actually provide quality over quantity?
Fast forward to 2017 and BioFit was founded. The one-stop-shop of fitness.
By 2020 BioFit opened it's first free standing building, an 11,000 sq/ft state of the art facility in Oviedo, FL. Which is our current location and HQ.
OUR PHILOSOPHY

Here at Biofit, we treat everyone as an athlete and give you all the tools to succeed. Our philosophy is based around the 4 pillars of fitness and health: Training, Nutrition, Recovery and Accountability.
Training: We provide small groups semi-private training and cover all aspects of training by offering our 3 main classes. Strength, Conditioning, and Durability.
Nutrition: All members get a basic nutritional plan, with the intent to educate you to choose healthier food, portion size, meal prep guide, and recipes. We also provide nutritional consultation with our on-site nutritionist.
Recovery: All members have unlimited access to our recovery tools such as the infra-red sauna, Cold and hot plunge, and compression boots. We also offer access to our on-site Physical therapist, Chiropractor, massage therapist, and stretch therapist.
Accountability: Finally we offer members accountability with weekly 1-on-1 meetings with your assigned coach. These meetings are crucial to keep you on track towards your goals and will determine your success.
CHECK OUT SOME OF OUR TRANSFORMATIONS