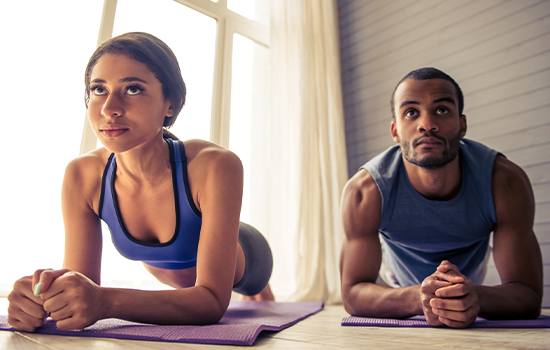 Bodyweight training is a unique form of exercise that relies solely on the weight of your body and can be used to achieve a variety of fitness goals. It's extremely versatile and because of this, it has lots of positive aspects. This article will take a deeper look at the positives and discuss some of the main benefits of bodyweight training.
Benefit 1 – It's Versatile
Whether you want to lose weight, build muscle or develop your cardiovascular fitness, bodyweight training can help. There are hundreds of bodyweight moves that you can choose from and all you have to do is find the right ones and combine them into a workout that can help you achieve your specific fitness goals.
For example, if you want to build muscle, a workout that incorporates pull ups, push ups and squats can help you achieve your goal. Alternatively, if you're looking to lose weight or boost your cardiovascular fitness, you can create a workout that includes high intensity bodyweight moves such as burpees, high knees, mountain climbers and skipping.
Benefit 2 – It Doesn't Require Any Equipment
Another great thing about bodyweight training is that there's absolutely no equipment required. Not only does this save you money but it also makes bodyweight workouts very efficient as you don't have to prepare necessary equipment for each exercise. Instead, you can smoothly transition between the different exercises and complete a highly effective workout in a relatively short period of time.
Benefit 3 – It Can Be Performed Anywhere
Unlike the gym, sports or exercise classes, bodyweight training isn't limited by location and can be performed absolutely anywhere. Whether you're at home, at work or outside, all you need is a small area of floor space to start performing bodyweight exercises.
Benefit 4 – It's Suitable For All Fitness Levels
Bodyweight training is a perfect tool for both fitness newbies and fitness pros alike. Most bodyweight moves are simplistic in their nature and something that even a complete beginner can master. However, the intensity of these simplistic moves can easily be increased for advanced users by adding extra repetitions or increasing the speed at which the exercises are performed.
Benefit 5 – It's Low Impact
One final benefit of bodyweight training is that it's gentle on your joints. Many forms of exercise place excess pressure on your joints and cause pain, redness and swelling. However, bodyweight training has almost no impact on your joints which keeps them healthy and free from pain.
Summary
 As you can see, bodyweight training is a very powerful fitness tool. It can benefit you regardless of your fitness goals or your current level of fitness. So if you're not doing so already, give bodyweight training a try and start enjoying its many benefits.
Or visit this link:
The Benefits Of Bodyweight Training
V.I.P 1 to 1 Fitness Center is hands down Fort Lee's best kept secret! About a year ago I felt like I wasn't able to keep up with my three kids. I knew it was time to make a change both physically and mentally. I contacted Brian Hernandez and have been training with Brian for less than 3 months. The compliments I began receiving about my shape, I had not heard in over a decade. Not to mention, the impact Brian has had on my overall well being is beyond descriptive. I have recommended Brian to 4 of my friends and they are as happy as I am with their results. All that I can say, if you are serious and committed to truly making a positive change, reach out to Brian and find out for yourself. This is the best decision I have ever made!!!!