I.C.E (Intense Cardio Exercise)
Endless hours on the treadmill to SHED FAT are over!

Most attempts at cardio wipe out any chance of body shape improvements. I'm sure you know lots of people that spend hours in the gym or on the treadmill and they never change! ICE is a science-based approach that maximizes fitness & fat loss!
In fact the research behind ICE principles show you can burn up to 3 times more fat vs regular boring cardio exercises!
With the Transform Fitness ICE Program you will experience Boot Camp/ Group Training like you never have before.
You will never be bored again as we offer up to 13 Fitness Classes a week to choose from ranging from 'Kick Boxing/Boxing' and 'Core Conditioning', to our trademark 'Ultimate Warrior' class where you will utilise a diverse range of equipment such as the battle rope, TRX and torsonator … just to name a few!
Also no 2 workouts are ever the same and all of them are programmed and designed to get your metabolic rate working into overdrive so you will be BURNING FAT for hours after your session. In addition, the programs take into consideration all fitness and strength levels with a regressed and advanced option for exercises.
Here's a sample of what you will experience…
We structure our workouts to optimize calorie expenditure! Our expert
instructors design to

suit beginners & all fitness levels

! Exhilarating, fun, safe, result-producing workouts!
Support, Motivation and ongoing Progress Tracking with our Online Tracking Software
Get UNLIMITED ACCESS to up to 13 ICE Sessions per week from

less then $5 per session
ARE YOU READY TO JOIN OUR FITNESS FAMILY?
WAY OF LIFE BOOT CAMP
Get a FREE Trial Week
Give us just one week of boot camp to prove why we have the ability to transform your body and life. Come meet our expert trainers and inspiring community that will motivate you to become the best version of yourself.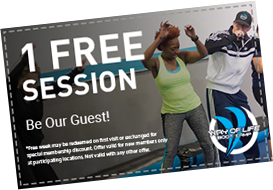 Get a Look at our Fun Fat Melting Workouts
Meet our Inspiring Trainers and Community
Talk to our Current Clients
See transformations in progress
TAKE THE CHALLENGE
Get the 14 Day Fat Flush for $28
(A $147 VALUE)
Jumpstart your journey to a healthier and happier you with our industry leading 14 Day Fast Flush. This exclusive deal will push you to your limits so you can crush your goals and build the toned and fit body you have always wanted. 
Experience Rapid Fat Loss
Slim, Tone, and Tighten Your Problem Areas
Increase Your Confidence and Self Esteem
Become a part of a Motivating Community