ABOUT RF YOUTH BOXING
RF Youth Boxing, Inc. is a 501 3 (C) designated charitable organization serving hundreds of youth and families in Lower Fairfield County since 2007.
We empower, encourage, and equip our historically underserved youth, ages 8-18, with essential life skills through the art of boxing. We strive to provide accessible high-quality programs to the youth of every race, gender, and socioeconomic background. We work daily to promote inclusivity and give youth a safe open space to call their second home.
Support the RF Youth Boxing mission to provide historically underserved youth with access to high-quality programs and the opportunity to become the best versions of themselves.
YOUR DONATIONS IN ACTION:
Provide scholarships for access to high-quality RFYB programs
Provide boxing and training equipment at no cost
Maintain efficient and optimal operations
Add additional programming to accommodate and reach more youth
Expand partnerships with other local organizations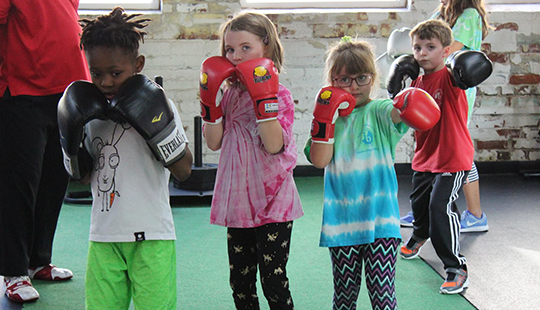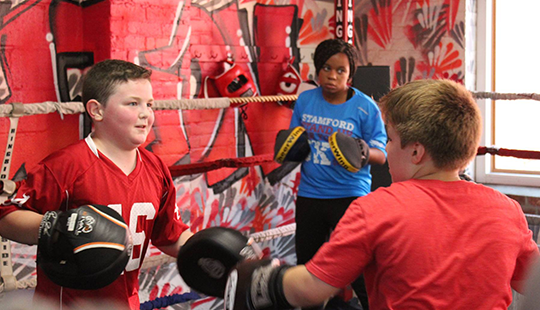 In all RFYB programs, athletes ages 8-18, are taught exercises, movements, and drills designed to challenge the whole body – both mentally and physically. Expert trainers teach youth about stance, guard, movement, combinations, and more.
Access to high-level coaching and mentorship helps the youth boxers navigate life challenges. RFYB coaches use the core principles of boxing to promote health and wellness, teach work ethic and respect, encourage confidence, and build leadership skills. Full and partial scholarships are available to eligible youth and families in need of assistance.
AFTER SCHOOL PROGRAMS:
The popular after-school recreational programs operate every weekday during the school year. Each youth membership, Lil Champs (ages 8-12) and Young Champs (ages 13-18) include 1-hour classes 3X/week.
SUMMER CAMPS:
The fitness-inspired summer camps include all the highlights of boxing after school- PLUS- special activities like guest speakers, field trips, and more. Summertime with RFYB promotes wellness, fosters community, encourages independence, and having fun. The camps operate for seven weeks from July through August.
THE LIT LAB:
The RF Youth Boxing Lit Lab was founded in May 2021. Year-around youth have access to computers and WiFi throughout the day.
WANT TO LEARN MORE?
WHAT ARE YOU WAITING FOR?
3 PERSONAL TRAINING SESSIONS & 2 WEEKS OF UNLIMITED CLASSES FOR $399
for $139.99
3 45 Minute PVT Sessions
Nutrition Consultation
Goals Assessment
2 Weeks of Unlimited High Intensity Focus Boxing & Strength Classes