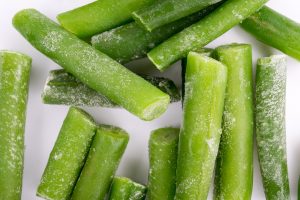 There are so many reasons to do meal prep, where you plan your meals, make them in one day and have them ready to heat and serve at the end of the day. One of those is that it makes it easier to eat healthy at home, rather than go through a drive through or fill up on junk food or processed ready-made high calorie dishes, like frozen dinners. It's especially true when you have freezer meals for meal prep already in your freezer. It's as easy as making extra for a few weeks, giving you a weekend or two off when you need it.
Vegetarian chili made with sweet potatoes and black bean freezes well and is delicious.
Heat oil in a dutch oven over medium high heat and add 2 medium sweet potatoes, diced, and peeled and 2 large onions. Cook about 4 minutes to soften. Add seasoning, including 8 minced garlic cloves, 4 tbsp chili powder, 6 tsp ground cumin, a teaspoon ground chipotle chili pepper and 1 tsp of salt, cooking for 30 seconds to blend flavor. Add 5 cups of water, cover, and simmer for about 12 minutes. Add four-15 oz cans of rinsed black beans, two-14 oz cans of diced tomatoes, 2 ½ tbsp lime juice and a cup of fresh, chopped cilantro. Bring to boil over high heat and lower to simmer for five minutes, stirring constantly. It can be frozen for three months. A two cup serving has 323 calories.
Go Italian with this recipe that's delicious yet only 257 calories for one serving.
This recipe makes four servings. Line the bottom of an 8-inch square pan evenly with a 15-ounce can of drained diced tomatoes. Cut two large skinless, boneless chicken breasts horizontally and season with salt and pepper or salt substitute, such as Mrs. Dash and put on top of the tomatoes. Spread on 2 tablespoons of homemade or real pesto sauce that contains just basil, garlic, pine nuts, Parmesan or Romano cheeses, and extra virgin olive oil on each chicken piece. Sprinkle with ½ C mozzarella cheese. Freeze and when you're ready to use thaw in the refrigerator the night before, then sit at room temperature for 20 minutes and bake at 350 degrees for 20-25 minutes.
Make a stir fry pack.
You can pack all ingredients together when you make shrimp stir-fry, because it doesn't take as long to cook as other protein sources. You'll also need a mixture of chopped up a red bell pepper, snap peas, thinly sliced carrots, broccoli, thinly sliced green onion, snow peas, mushrooms, bean sprouts or shredded cabbage, or any veggies you want, the more, the better. Sauté shrimp in stir fry sauce. You can make a healthy option or search for a healthy store bought option. Use about three and a half tbsp per pound of shrimp and mix in a large bowl. Place that mixture in a plastic bag and top with all the vegetables you've chosen. Freeze until you're ready to stir fry. Just heat the skillet to medium high and cook about 8-10 minutes until all ingredients are cooked. It stays good for a month.
No all soup freezes well. Soups with pasta and rice can come out of the freezer mushy. Dairy based soups often separate when frozen. Soup with large chunks of potatoes also don't fare well in the freezer.
If you make poultry or meat dishes, do several recipes at once so nothing goes to waste. The bones from a chicken make a great bone broth that's extremely healthy and you can create everything from healthy wings to jerk chicken.
For homemade stir-fry sauce combine a ½ C of each, low sodium soy and chicken broth, ¼ C cashew butter, 1-tsp each toasted sesame oil and rice vinegar, 1-tbsp maple syrup, 2 ½ inches of grated ginger, 3-4 minced garlic cloves, 1 tbsp cornstarch or arrowroot and pepper flakes.
When cooking meat, cook extra and cut up in small bite size amounts to thaw and top salads or reheat and serve on rice.
For more information, contact us today at Iron Fit San Antonio