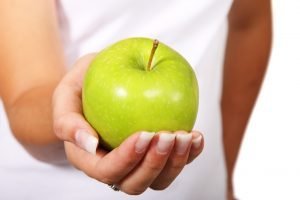 Eating healthy means consuming food that is closest to its natural state without processing. One of the favorite foods of many is the apple. The old saying that an apple a day can keep the doctor away has merit. Just eating one apple a day and the balance of your diet junk food, won't put you on the road to good health, but it's a start. There are many health benefits from apples that will add to your good health, especially when combined with other healthy food options.
Apples are loaded with nutrients.
Apples have a lot of vitamins and minerals. An average size apple has under 100 calories, but contains almost 16 percent of the daily fiber requirement, 14%of the vitamin C RDI—referenced daily intake, 6 percent of the potassium RDI and 5 percent of the vitamin D RDI. It also provides copper, manganese, vitamins A, B1, B2, B6 and E. When you eat an apple, don't peel it. The skin is high in polyphenols, a type of natural antioxidant.
Improve your heart health with apples.
When it comes to fiber, the more the better and apples are a great way to get it. It contains soluble fiber, which helps lower cholesterol levels and is a prebiotic, food for healthy bacteria in your gut. It also has the polyphenols that are antioxidants. The polyphenols in the skin of apples are primarily anthocyanins, which give apples their red color. They help lower cholesterol levels, too. In fact, one study compared eating an apple a day to taking statin drugs and found that apples were nearly as effective in lowering the death rate from heart disease as the drugs. The epicatechin, a flavonoid in apples, helps lower blood pressure and reduce the risk of stroke.
Weight loss may be easier if you eat an apple a day.
If you want to fill up and not out, consider eating more apples. Applesauce and apple juice won't do. One study showed that eating a few slices of apples prior to a meal made people feel fuller than simply eating applesauce, drinking apple juice and of course, fuller than not eating anything at all. In fact, people who ate apple slices ate 200 calories less than the others. They're full of fiber and water, while still being lower in calories. Try adding an apple or two a day to your diet and you'll find weight loss easier.
Make sure the apples are organic, since they're on the dirty dozen list, which means that more than 90 percent of the apples tested nationwide had residue for two or more pesticides.
Studies show that eating apples can boost bone density by slowing the loss of calcium. It comes from the anti-inflammatory and antioxidant compounds contained in apples.
Apples are mildly acidic, but you won't hurt your teeth by eating them. In fact, eating apples also promotes saliva, which is good for the teeth, while the natural sugars aid in neutralizing the acids. The apples contain vitamins for healthy gums.
You'll lower your risk of diabetes, cancer and asthma when you eat apples regularly. It also contains antioxidants that protect the lungs and immune system.