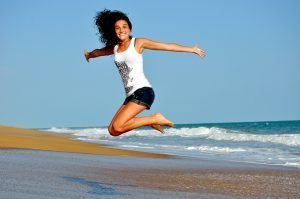 There's a lot of fun things to do in San Antonio, TX, and many of those activities provide a great workout. Whether it's taking a bike tour around the city or creating your own River Walk tour, there's a massive amount of things to do in our fair city. One thing that will keep you healthier is to stick with your normal schedule. Sure, sleeping in sounds like a blessing, but did you know that just changing your sleep schedule by one hour can increase the potential risk for heart disease by about 11 percent!
Get active with the kids, enjoy a day of solitude or get a group of friends together for fun.
It's the perfect time of year for a little scare and mapping out a walking tour that includes seeing the local haunted buildings and homes could be fun. Make it an outdoor event with a day of hiking bike riding and even sight seeing. Often, people have never even seen attractions that visitors have traveled miles to see in our city, like the Alamo. Getting a Super Pass and making a packed day of it can be wearing, but also provide loads of exercise. There are even free walking tours available.
Get outside and enjoy all the city and area has to offer.
This is the perfect time of year to start exploring the greenways. Pack a healthy lunch and go out for a day of hiking at Leon Creek or Salado Creek Greenway. If you haven't ridden a bike in years, make it a priority and rent a bike for the day. You may find it brings back fond memories from the past and becomes your favorite thing to do. Whether walking, biking or jogging, getting closer to nature is always renewing, fun and boosts your fitness.
Make it a family weekend that lets you have more time during the week.
Spend a few hours before the weekend, planning healthy meals for the week, creating a shopping list and getting everything you need. Take a few hours on Saturday and Sunday to prepare meals for the whole week and then package them. Double the recipe and freeze some for those weekends that are packed. Getting the whole family involved can free up time for fun and active things for the whole family during the week.
Having fun and getting active can include making your environment better. Plan a project that takes a few hours every weekend and put it on the schedule as the first thing to do on Saturday morning. Paint a room, rake the yard or clean out a closet. Work fast and get your heart pumping to make it a workout.
Plan games to play with the kids or get together with friends for some basketball or touch football. Socializing is extremely important for good health, so why not make it active?
Tuck away your cell phones and make it a tech free day, which also includes TV and computers. If you're worried about emergencies, designate one phone number for emergencies and leave it on everyone's phone message. You control that phone.
We have programs for everyone at Iron Fit. Try our free 3-day pass to see if it's right for you. Take the 28 day fat loss challenge and you'll be amazed at how much energy you'll have for fun on the weekends.