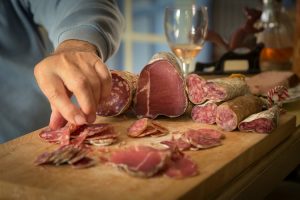 There's nothing that beats eating healthy and making smart choices when it comes to food for losing weight and keeping it from returning. However, once in a while you want to get a head start on weight loss and lowering the carbohydrate intake is one way to do that. The best low carb foods are those that contain a lot of nutrients and taste good. They can become part of your normal eating pattern even after you shed those extra pounds and will help you prevent those pounds from returning.
Low carbohydrate foods are both good for your health and the dieter.
There's a lot of good reasons to limit your intake of carbohydrates. One is that you'll feel fuller because low carbohydrate foods don't spike your blood sugar, only to drop it later. Instead, it helps it stay on an even keel. That balanced blood sugar level helps diabetics, while also helping prevent heart disease. Low carbohydrate diets have also been proven to be more beneficial in weight loss efforts than other types of diets. Low carbohydrate diets contain lots of fresh fruits and vegetables, which is good for everyone.
Say no to pasta and yes to healthy vegetarian alternatives.
You'll love the yummy taste of spaghetti squash and won't want to go back to regular noodles. Not only is it lower in carbohydrates, it offers dietary fiber, vitamin C, vitamin A, calcium and potassium. Zucchini noodles as an alternative also offer those same benefits. They're both lower in carbs and calories, too. I love spaghetti squash baked and then mixed with a tablespoon of butter and roasted garlic, but using a spaghetti sauce on top is also a great way to enjoy your pasta without any pasta or guilt. Add a turkey meatball or two and a salad and you have a great meal.
Try something new with an old food you're sure to love.
Have you ever heard of lamb's lettuce? Maybe you've heard the term mâche. While it once was considered a weed, it's now a hot culinary delight. This small plant grew in fields with cereal crops, so it's also known as corn salad. It has a juicy tender leaf that has a slightly nutty flavor. The French serve it with vinaigrette and add roasted beets or hard boiled eggs. You can serve it with thinly sliced broccoli, sunflower seeds, onions, extra virgin olive oil and spices. Add a side of lean marinated steak and you have a delicious low carb meal.
Honey-soy glazed salmon with mushrooms and peppers create the perfect low carb meal that's fit for a king. It's nutritious and delicious.
Pizza crust from cauliflower is a low carb option that tastes even better than regular pizza and has more nutrition.
Hungry for a snack. Consider a low carb option like zucchini Parmesan chips. Everyone will love this option.
Grilled shrimp and mango on a bed of baby lettuce and couscous is a yummy meal whether it's on the barbecue grill or stove. It's also a delicious low carb option and extremely healthy too.