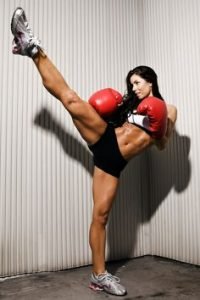 Unusual but amazing workouts can renew your interest in working out and help you get into shape while having a blast. Imagine walking your dog, while cross country skiing at the same time. It's called Skijoring and there's even races. While the dog does some of the work, having a harness and straps to pull you, it's still a great workout and can be fun for both you and Rover. Dogs need exercise, too and it's a great bonding experience. In the summer, you can do doga, which is doing yoga with the dog.
Love karaoke, but also want exercise?
Try this new version of spin class, called Karaoke spin. It's also known as cycle karaoke. When you're singing while you spin, it helps breathing techniques and gives your lungs more of a workout. If you can't easily sing while you're pedaling, you're not pedaling hard enough. It reminded me of a client who thoroughly enjoyed giving her kids a zinger. She used to ride bike with them and when she felt it was right, sang at the top of her lungs while pedaling. Needless to say, she had to pedal pretty hard to keep up with her kids who were fleeing her in embarrassment.
Jukari Fit to Fly is made for the adventurous.
If you loved the jungle gym and trapeze as a kid, you'll love Jukari Fit to Fly. This workout uses a trapeze-like apparatus that helps you tone your body. It lets you swing, fly, spin and jump while you're feeling like the top performer at a Vegas Cirque du Soleil review, except you're far closer to the ground. In fact, it was created by collaboration between Cirque du Soleil and Reebok, so it should feel authentic.
If you are a fan of Bollywod movies, Doonya may be for you.
If the dance moves of Slum Dog Millionaire made you smile, imagine how great you feel when you do them on your own. This high energy workout will help you building strength and flexibility, while building your cardio. It offers the unique sounds and movements that sets it apart from other dance exercise classes.
If you've ever watched your hamster in an exercise ball, you'll appreciate what it must be like when you try water walking. Some deem this mode of exercise dangerous, particularly if you have an untrained operator, so do your homework before you decide to try it and only work with the best.
Try Capoeira, an artform from Brazil that uses dance movement, combat moves and special music to improve agility, flexibility, strength and speed.
Try Krav Maga, an Israeli hand-to-hand combat technique that uses instinctive reactions for self-defense.
Take a pole dancing class, but if you're not that adventurous, try polga. Polga combines yoga with pole dancing to provide benefits in all areas of fitness; strength, flexibility, balance and endurance.