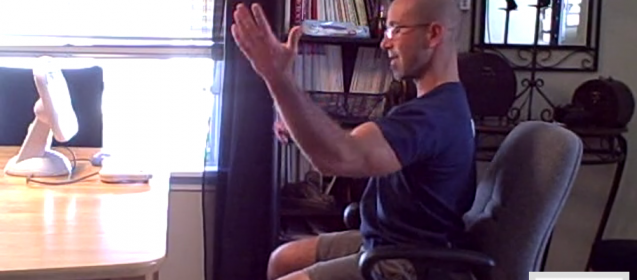 Most aches and pains of the body, especially the hips, back and neck are caused by sedentary lifestyle and lack of flexibility conditioning… and not by any specific injury.

Because of that – most aches, pains and stiffness can be alleviated with a series of natural stretches that increase joint mobility, enhance musculo-skeletal range of motion (ROM), and reduce incidence of injuries commonly associated with sedentary living (i.e.; couch potato, etc..)
This 7-minute "life-saver" will have you feeling immediate relief and increased range of motion.
Before you start:
1 – GO EASY: Even though this is a very basic and gentle stretching sequence, you do not need to be aggressive with it.
2 – Only do the stretches that feel comfortable. If any of them feel out of your ability, then hold off until you gain flexibility by doing the ones you can.
3 – IF IN DOUBT, show this video to your doctor and get clearance to do it before attempting on your own.

4 – Before you leave this page PLEASE DO share it with your other female friends, family and co-workers so they can benefit from it as well.
Are You New Here? If So, You Have 3 Sweet Options:
1 – Start Your FREE 7-Day "Slim-Down & Tone-Up at Home" Method on this page (you'll also get the latest articles, videos and updates posted on our blog).
2 – Call, or Text, Nikki (904-891-3680) to See if We Have Any Complimentary SCULPTAFIT Studio Sample Sessions available (we only offer 4 of these per month)
3 – Call, or Text, Nikki (904-891-3680) if you have any questions about your specific personal health and fitness needs and goals – and to see if you'd be a good fit for the SCULPTAFIT Method and Community…
"We have a very special community of women who are all health-conscious, very supportive, positive and non-judgemental… This is the type of nurturing environment where MAGIC happens and it's what sets us far apart from all other fitness & wellness options out there…" – Joey Atlas; Founder, SCULPTAFIT