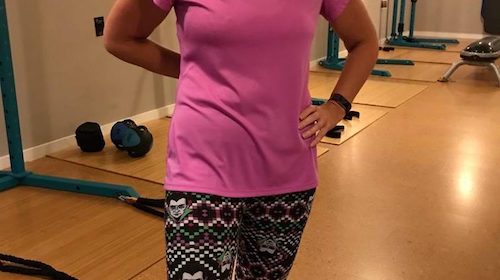 Proper weight-loss does not begin and end with a focus on "losing weight"…
It comes as a result of placing priority on health, wellness and longevity.
We all know MANY people who tried countless "diets and procedures" in order to drop all the excess pounds, only to find themselves still at the same weight, or quite often – gaining even more…
Truth be told; It's the focus on "losing weight" that causes the whole plan to backfire.

Nicole lived through this same scenario several times in her adult life, until she faced the truth – that her focus had to be on something more important, more significant and more meaningful than just the weight itself.
This changed the game for her. It was the 'missing link'.
The "weight loss" is a side effect… one of the benefits that comes from mindset, habit and lifestyle changes that honor the gift of life and prove the desire to live a vibrant, self-respected and fulfilling life – with full strength, vigor and enjoyment.
For context, here's Nicole's previous update blog-post: 85 pounds of health-enhancing, life-improving weight loss and wellness
And if you missed Nicole's "7-month Health & Wellness progress update" you can see that here (61 lbs of weight-loss, body-composition and health improvements…
She's made even MORE progress since then, so today's post is to show you her stunning and INSPIRING progress at the "1-year" mark… Remember, here mantra is "FIT Before 50" and she is well on her way…
Here is her October 2017 HALLOWEEN photo update shot (see her "before" photo below)

Nicole's Body-Composition, Weight-Loss, Anti-Aging Difference Between 2016 and 2017: ASTONISHING
It's So Ironic That People Who Focus On Weight-Loss Often End Up Gaining More Weight
The reality is, we need to focus on self-care, self-love, self-respect and self-awareness…
Once we place priority on those powerful aspects of living – then the whole picture begins to change…
And it keeps changing as you maintain proper focus the important elements of your life and well-being…

The SCULPTAFIT Coaching Team is here for you, ready to help you take all the right steps toward your best health and best life:
Call or Text Nikki for a Complimentary Sample Session 904-891-3680