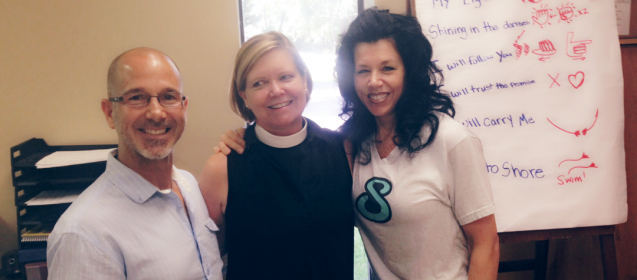 St Patrick's Episcopal Church in Fruit Cove Launches Wellness Center for Parishioners and Local Community
Mother Ronnie is the Beloved Rector of the Church AND she's also a SCULPTAFIT Client 🙂
Even better is that she and her team invited the SCULPTAFIT Team to be the experts on community fitness for the Church's Wellness Initiative. The photo below was take at the launch party of the Wellness Center, which will be open to the local community as a whole (not just parishioners).
The Wellness Center is a progressive initiative, fueled by the combo efforts of the 'health conscious', Mother Ronnie Willerer and the vibrant and visionary, Carolyn Hyman.
Here is the letter Carolyn shared with all partners prior to the launch of the Wellness Center:
————————————————————————–
St. Patrick's Episcopal Church Wellness Center
"Commit your actions to the Lord and your plans will succeed."
Proverbs 16:3 NLT
July 29, 2016
Dear Wellness Friends:
Thank you for your interest in the new St. Patrick's Wellness Center. I am happy to say the Wellness Center space at St. Patrick's has undergone a beautiful transformation and is complete. We now continue to turn our focus to the health and wellness needs of our parish and our community. In our vision we see the Wellness Center as a place where community professionals and laity come together to assist our community in meeting those needs from a holistic perspective – body, soul and spirit.
Because you are gifted professionals and laity, our Rector, Mother Ronnie, or I recently had conversation with you about being a consultant or resource for the Wellness Center. You responded with energy, excitement and support. Some of you very kindly offered to provide professional, educational and experiential programs. Others offered to help us connect with our faith community and the community outside of our parish, manage our communication and design needs, and tend to so many other details necessary to the center's success. To all of you, we are so grateful and say a heart-felt "thank you."
We have a core team at St. Patrick's who are working together to build a foundation for the Wellness Center and develop a calendar of wellness events for the coming year.
As we have been working to put the pieces of our Wellness Center together, we realize we have been working with parish and community visionaries. Together, with an inspiring canvas and broad brush, we will paint a beautiful picture of holistic health and wellness – body, soul, and spirit. Then we will incorporate our gifts, talents, and skills to develop, implement and grow the Wellness Center where all are welcome to experience wellness in a brand new way – body, soul, and spirit.
Moving forward our goal is always to keep our fingers on the pulse of our community and our eyes on God and the vision. Most importantly, we will prayerfully commit all our actions to God, support each other, and HAVE FUN!!
We look forward to working with you as we extend our hands and hearts to our parish family and the community beyond our walls.
Wellness Blessings, Body, Soul, and Spirit
Carolyn Rae Hyman, RN
Wellness Center Coordinator
————————————————————————–
The Wellness Center Initiative represents a holistic approach to honoring the higher powers by honoring the miracle within ourselves, in body, mind and spirit – through proper habits of fitness, nutrition and mindset enhancement.
The SCULPTAFIT Team is honored to be a part of the initiative.
Below are a few words from Mother Ronnie which she posted as a Facebook Review, after her first month as a client of The SCULPTAFIT Studio: