There are between 650 and 850 muscles in a woman's body.
Think about that….
Now think about the number of women who lead a sedentary lifestyle. Women who don't get proper muscle stimulation and conditioning… (same thing goes for men too)
When we are sedentary, the muscles waste away. They "deflate" and become atrophied (shrink and get weaker – and more prone to injury)
When all those muscles become atrophied – it makes body composition worse. Meaning, the percentage of body-fat rises dramatically above the percentage of valuable muscle tissue.
And this creates a negative cascade effect.
1 – metabolism gets knocked out of whack
2 – weight gain keeps creeping higher and higher
3 – aches and pains keep increasing as time progresses
4 – balance and stability are sacrificed and we become more prone to falls
5 – energy drops lower and lower
6 – we lose coordination and agility
7 – mental clarity decreases and we get 'foggy' and forgetful
8 – risk of disease increases (diabetes, osteoporosis, heart failure, alzheimers, etc)
9 – depression, dementia, drop in self-confidence – all result from physical de-conditioning
These are all signs and symptoms of premature aging and early onset disease – which really means a shorter and less fulfilling life.
Simple.
"If you don't use it – you LOSE IT."
The saying is 100% true…
When we have so much to live for, so many people who love us and want us to be around and be strong and capable – why do people let themselves go??
It's the strangest thing, really.
The good news is – it doesn't take a whole lot to get into a proper routine of smart exercise that gently stimulates all the muscles of the body to negate atrophy and fend off all the ill effects that result in a sedentary lifestlyle.
BUT – we have to do the right thing.
.
We can't be doing crazy workouts that feel like punishment and torture.
We can be doing things that actually put our muscles, bones, nerves, tendons and ligaments at risk. That just makes no sense.
But what makes all the sense in the world is following a properly structured, simple and enjoyable fitness program that nurtures and trains the body the way nature intended it to be…
Low-impact, focused intensity natural body-movement exercise is the best way for women to get all the amazing benefits without the risk of injury and without the brutality that is being touted in the masse media and by all the extreme fitness fanatics…
There's no need for that when you have something designed by Exercise Physiologists, based on proven science and not fueled by sill myths and "gym folklore"…
And that's what we do at the SCULPTAFIT Studio of St Johns & Mandarin, FL – we deliver what YOU need.
If you want to come in for a friendly Studio tour and even try a session or two – just call or text Nikki at 904-891-3680
And we're quite sure you'll be writing something like this before you know it:

In health, wellness and longevity,
~ Joey and the Caring Coaches of SCULPTAFIT
PS – if you have any questions you'd like to ask about your personal health and fitness feel free to connect with Nikki at 904-891-3680
Nikki has years of wisdom that will help you understand how you can start making profound improvements today and keep them going forever.
=======================================
---
---
---
---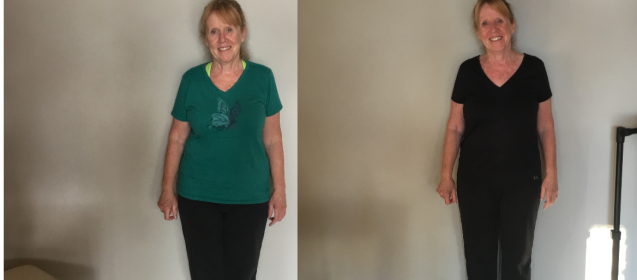 We have a BUNCH of amazing success stories unfolding here, every week, in the SCUPLTAFIT Studio for women…
Today, I'm sharing Carol's with you – not only to inspire you and show you what IS POSSIBLE, but also so you can start implementing her tips asap…
First – a little background…
Carol was referred to SCULPTAFIT by her good friend Diane who is one of our Founder Clients. Diane joined SCULPTAFIT before we even opened!
Once Diane got started with us, she was over the moon and said "I have some friends who NEED this…" And Carol is one of those friends…

Carol is about 5 months into her gentle fitness program here and she has made STUNNING improvements.
So, we asked her to summarize her positive habits that she follows in addition to what she does here with us and the other women in the SCULPTAFIT Studio.
Here's what she wrote (pay attention because this is THE KEY to success for many women – when combined with the PROPER fitness program):
———————————————
From: Carol
To: The SCULPTAFIT Team
In Addition to My Fun & Effective Visits to the SCULPTAFIT Studio- here are some of my key "new habits":

A – Breakfast is a small bowl of Fage 100% yogurt with honey and cinnamon. Sometimes I add a hard boiled egg later on if I am hungry.
B – Lunch is a small portion of deli meat with tomatoes and mustard or mayonnaise in small amounts. No bread… and I don't go hungry.
C – If we are dining out I have a nice salad, any dressing is on the side in limited amounts, and then I add chicken or fish or even steak.

D – Most dinners at home; I eat a salad/veggie, I limit bread, and then have a smaller portion of just about any food I want for supper. Steak, fish, chicken. I like to cook so it varies every night.
E – I limit alcohol. I did not have any alcohol for the first 4 months of starting SCULPTAFIT. …and still mostly limit myself to a spritzer or a mixed drink with cranberry juice. I feel so much better.
F – I like dessert but my dessert has become a piece of fruit with low calorie creme and cinnamon. ( I did enjoy a small piece of my husband's birthday cake this weekend. Some things I will not pass up, and I'm still making great progress 🙂

G – Snack during the day will be a handful of nuts and a piece of fruit. Always have fruit/dried fruit on hand. I have no added sugar at all, and no processed junk foods.
E – In my 5-month progress photo on the right, you can now see space between my body and my arms, because everything is shrinking and tightening up. It feels unbelievable. And you can see my neck is smaller and tighter, and my smile even radiates a better, happier kind of energy that was fading away before I started at SCULPTAFIT.
A few BIG bonuses since starting my personal program at SCULPTAFIT Studio, not overeating, and limiting alcohol:
1 – I don't have GERD (what a relief!!)
2 – My cholesterol is DOWN. I have stopped taking cholesterol medicine as per my MD, on a 2 month trial basis!!!
3 – I'm aiming to get off my hypertension/BP meds next 🙂
4 – I had avoided getting on the scale for about a year! No kidding. It would just depress me. BUT now I check it once a week and and I am pleasantly surprised each time.
With improvements like that, I can say this is really like a miracle.
Yes, these new positive habits are a positive commitment, and they are SOOOOOOOO worth it!
I know I'm at my best for my family, including my grand-kids. It feels amazing really.
THANK YOU
– Carol
————————————————-
WE LOVE getting these kinds of success stories from our clients!!! It's why we do what we do!
How about you?? Are you ready to get your health and life on the RIGHT TRACK…
This is our specialty, this is our gift. We will help you get where you need to be.
As you can see, Carol is very similar to many women…

Maybe even very similar to you or someone you know… And if so, we'd love to invite you in to try a free week here, no strings attached.

At minimum, you'll walk away KNOWING exactly what a proper fitness program is supposed to look and feel like for a woman like you.
And, hey – you may LOVE it so much here that you also want to become a client (we have several great programs to fit your schedule and budget.)
FACT: 1 cigarette takes off 11 minutes from a smoker's life.
And do you know how much time every extra 5 pounds of body-fat takes off a life?
The figure hasn't been quite nailed down yet, but the numbers are pretty scary when you factor in all the diseases, complications and problems…
It's time to take care of YOU, just like Carol is doing…
And We Will Help You…
Just call or text Nikki now: 904-891-3680 and let her know you're interested in a
Complimentary "SIGNATURE Sample Session" and Personal Fitness Consultation

(or maybe even '1 Week Free' if we have any left)
---
---