You're going to LOVE this, because…
We don't like "beast mode" (that's so silly)
We don't want to "kill it bro" (who says that???)
We don't want to "go hard or go home" (who talks like that??!!)
We don't believe in the "no pain no gain" thing (what's wrong with people these days!!??)
Click play and enjoy (and WAIT FOR IT):

If you're struggling with your personal fitness – worried about your health status – frustrated by lack of success with things you tried in the past, concerned about your wellness and what the future holds for you… Then reach out to us ASAP.
We are here for YOU. This is what we do – and we are the BEST at what WE DO.
We care about your life, your health, your longevity. And it's our mission to guide you safely, properly and successfully to your best fitness and wellness goals.
We are inviting in 5 women this week to come try a series of Complimentary Sample Sessions – to see if we still have a spot left for you, reach out now by calling or texting one of the coaches here at 904-891-3680
The only thing you'll regret is not getting in touch with us sooner.
It's NEVER too late to do the right thing. You still have lots of life ahead of you if you take wise action now.
We look forward to meeting YOU 🙂
The Caring and Capable SCULPTAFIT Coaching Team
---
A few months ago, Ryan Fairall (PhD, CSCS, EP-C, CES) reached out to us from Keiser University's Jacksonville Campus…
He's the Sports Medicine & Fitness Technology Program Director at the University and he wanted to explore externship/internship opportunities for his students…
And thus started what is shaping up to be a mutually beneficial relationship between SCULPTAFIT and the progressive Health/Fitness Degree program at Keiser.
He asked if we'd be interested in coming to speak with his students about our unique position in the health/fitness industry and why/how we chose to take an unconventional approach in helping people get fit and healthy.
His main intention was to expand the thinking of his students to look beyond what already exists, and think about what still might need to be created and/or grown in the fitness industry to start reaching more and more people who need realistic and sustainable ways of wellness.
The video above dives deeper. So, enjoy and please do share it with anyone you wish…
And if you're interested in taking proper care of your personal health, wellness and longevity – please reach out to Nikki at 904-891-3680 (call or text) to see if she can get you in for a Complimentary Sample Session and a pleasant Studio Tour.
"You only have one life, make it a healthy and vibrant one…."
---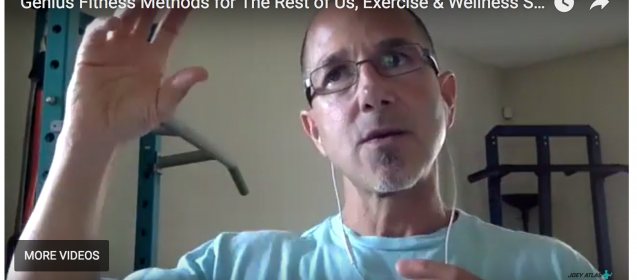 In this interview with Miriam Fratianni of Switzerland, Joey shares the personal story of his journey from youth into adulthood, and the peaks and valleys that guided him toward creating a simplified approach to proper fitness and optimal wellness, not just for himself, but for countless others all over the world and in the SCULPTAFIT Studio in Saint Johns & Mandarin, Florida…
Here are some of the topics covered in this candid interview:
1 – his unique childhood situation that showed him what daily exercise can do for your body, mind and health
2 – insights as to why only a small percentage of the population "show up" to take care of themselves, while others neglect themselves
3 – obstacles that prevent people from getting healthy, well and fit
4 – how changes of life stages prompted new ways of seeing what daily fitness should consist of
5 – "not so obvious" effects of exercise on gut health, digestion and assimilation
6 – the hidden truth about our surroundings, our food supply and the unseen forces that trigger harmful choices
7 – the factors of necessity that led Joey to inventing the SCULPTABOD Genius Fitness Training Units
8 – the inspiration behind creating and opening the first SCULPTAFIT Studio in Saint Johns/Mandarin area
9 – plus several more mind-shifting insights that will have you thinking very differently by the end of the interview…
If by some good chance the information shared in the video interview above inspired you to take your next steps of proper fitness and personal wellness…
.
…then simply call or text us at 904-891-3680 (Nikki will get back to you asap)
==>> We have a few open times for Complimentary Sample Sessions in the next 3-6 days so you can come try it, meet the supportive people here and see if this is exactly what you need to get you on the right track and making the positive progress you deserve.
Here's to your best health and optimal wellness,
The SCULPTAFIT Team

---
---
---
---
---
---
---